【The finest night】 Popular No. 1 Gourmet dinner course made from the recommended dish of the day 10000 yen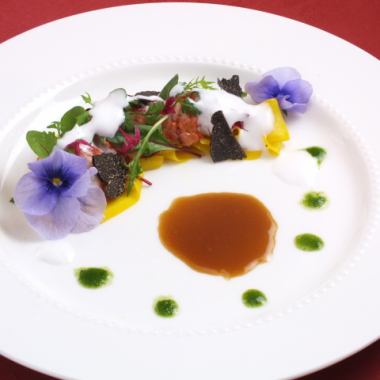 10000 yen
It is price including tax and service charge.
※ The image is an image.※ Please tell us in advance what you are allergic to, weak.
Menu
Recommended for CHEF who uses important people and seasonal ingredients on a special day, full course is recommended.
Today CHEF Recommended cuisine made full course, relaxingly fun and delicious time!
◆ Amuse
◆ Appetizer 1 item
◆ Appetizer 2 items
◆ homemade bread
◆ Small soup
◆ fish cuisine
◆ meat dishes
◆ Grandesail or fromage
◆ coffee or tea or herb tea
◆ Petit Fours
Coupon that can be used
Message containing a special dessert plate gift to birthday anniversary towards the dinner course reservation

Presentation conditions

We heard the message at the time of booking at the time of booking.

Conditions of use

Lunch not possible (is available at + charges possible)

Expiration date

01 May 08 - 01, May 09, 2018 2017