Low-carbohydrate special dinner course (reservations required) person in carbohydrate restriction and, is also popular in pregnant women.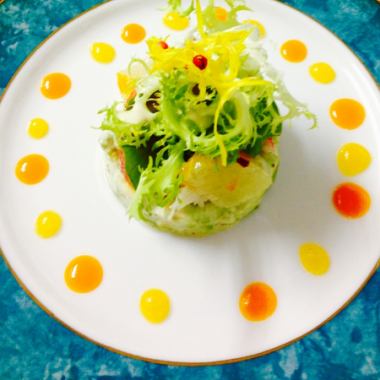 9000 yen
Is the price of tax and service charge included.
It is a recommended course for those of carbohydrate restriction and diet.Dessert of low-carbohydrate bread or carbohydrate cut made by trial and error is available happy to eat to see.※ The photograph is an image
Menu
It is a low-carbohydrate special course with plenty of carefully selected seasonal taste.
(Sugar 25 calories about 1000kcal)
(From one day menu)
Season, the contents by the stock situation will change.
● Today's bite hors d'oeuvres
● vegetables plenty of appetizer 3 dishes Assorted
● Commitment beef consomme
● specialties fresh fish cooking vegetables plenty of source
● CHEF you leave meat dishes
● low-carbohydrate dessert or cheese platter
● whole wheat baguette or a low-carbohydrate bread
● after-dinner drinks
When is a luxury and a delicious healthy cuisine.
Since the stock situation there is a change of content, please understand.
If the amount seems to be many ※ The fish the main, you can also choose the meat either.(Tax-included price 7,560 yen)
Coupon that can be used
Message containing a special dessert plate gift to birthday anniversary towards the dinner course reservation

Presentation conditions

We heard the message at the time of booking at the time of booking.

Conditions of use

Lunch not possible (is available at + charges possible)

Expiration date

01 May 08 - 01, May 09, 2018 2017