Gourmet lunch course is recommended to leave CHEF you if Petit to luxury!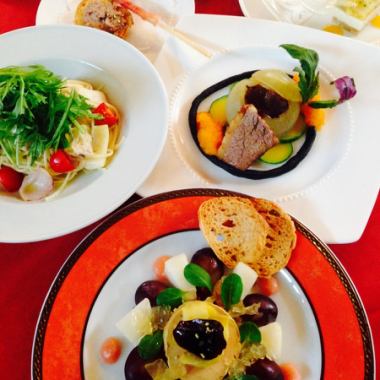 4500 yen
Tax is the price.
Sometimes those who want to lavish lunch, meal with the direction a little important, matchmaking, is here to your meeting together such important day is recommended.Since it is also a semi-private room if bulkhead. In Patishon, will enjoy the meal time without worrying around.It should be noted, birthday, anniversary, etc. will be message-filled dessert plate gift if you use.Please tell us the time of booking.
Menu
· Recommended appetizers 3 dishes platter of the day
And vegetables plenty of collagen soup
· CHEF recommended fresh fish dishes
- Specialties Meat
Homemade bread
· Dessert
- After-dinner drinks
If you use in your birthday anniversary, etc.
We will present a message containing dessert plate.
Please tell us the time of booking.
Coupon that can be used
Message containing a special dessert plate gift to birthday anniversary towards the dinner course reservation

Presentation conditions

We heard the message at the time of booking at the time of booking.

Conditions of use

Lunch not possible (is available at + charges possible)

Expiration date

01 May 08 - 01, May 09, 2018 2017